Le Canigou - Ria Sirach
Ref:

1146

Sleeps:

4 (1 Bedrooms)

Rates: £199 - £350 GBP
Summary:

Lovely modern apartment with large decked terrace.  Ideally situated for exploring the Pyrenees and the Mediterranean.  Bar/restaurant, general shop and pizza place all within easy walking distance.  Bring the baby, we have all the equipment you could need.  Free Wifi.
Details
Ria Sirach is a typical French catalonian village that is perched on the side of a hill, with the river Têt flowing below it.  It is ideally situated on the main route from Perpigan to the high Pyrenees, positioned between the bustling market town of Prades and the UNESCO world heritage site of Villefranche de Conflent, it is a perfect base from which to explore the area.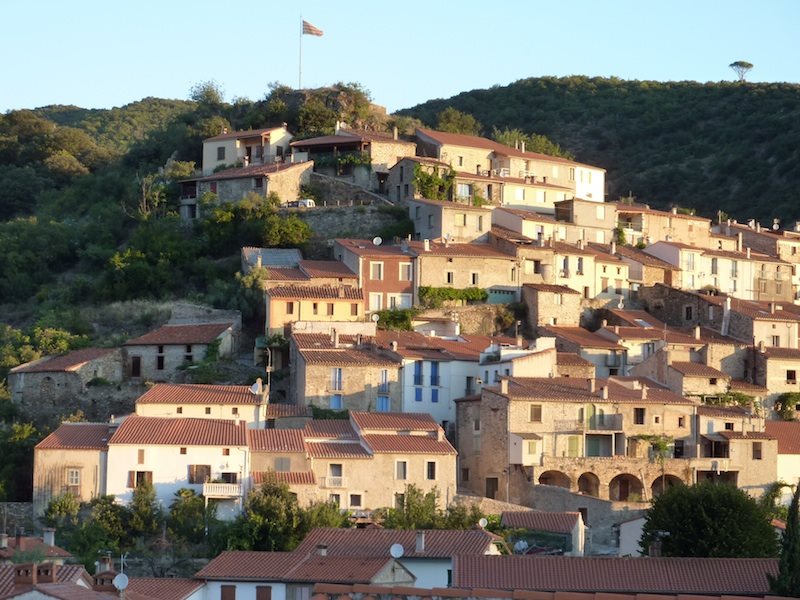 Facilities Indoors
Sleeps: Up to 4 in 1 bedroom.
All bed linen and towels provided.  For lets of 2 weeks we would change the linen at your request.
Bedroom 1:  Comfortable king size bed King and ample wardrobe space.  Patio doors to the terrace.
Other places guests can sleep:  Double sofa bed in the living room with sprung mattress.
Baby: We can supply highchair and cot, baby buggy, potty, bath support, baby chair, baby carrier etc. please ask for details.
Bathroom: Bath with shower over, sink, WC, washing machine, heated towel rail and hair dryer.
Kitchen:  Comprises, Oven, Hob, Microwave, Fridge Freezer, Kettle, Toaster, Food blender, Cafétière.
General:  TV, Ipod docking station, local guides, books and board games.
Heating:  The apartment has programmable electric heating throughout.
Wifi: Free unlimited wifi.
Seating:  This apartment comfortable seating for up to 4 people and dining room seating for 4-6 people. 
Facilities Outdoors
Barbecue:  Charcoal barbecue on the terrace.
Terrace:  The terrace is equipped with a large dining table and chairs and a huge parasol.  There is also 2 lougers to relax in the sun.
Parking:  Opposite the apartment is a free car park.
Further Details Indoors:
The apartment comprises of an open plan kitchen, dining and living area.  There is also a seperate bathroom and bedroom.  The fully fitted kitchen is well equipped with everything you could need to prepare a snack or a seven course gourmet meal.  The living room is comfortable bring your laptop or tablet etc and we will help you watch English TV so you can stay up to date with your favourite programmes.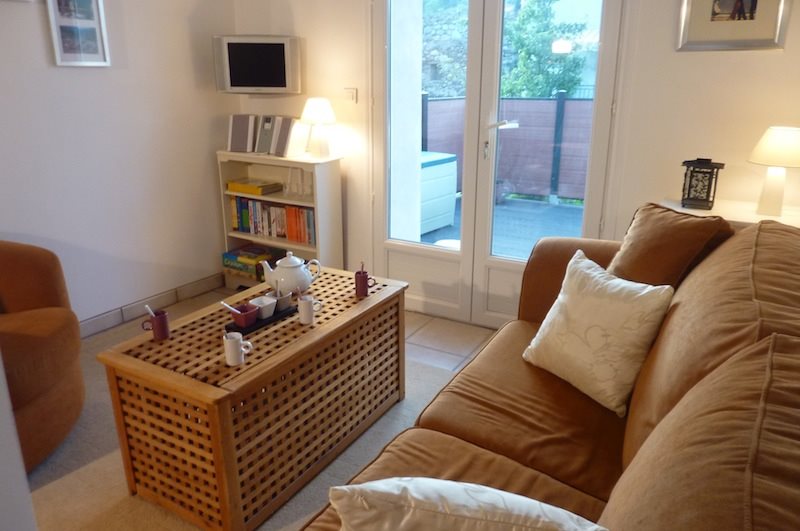 The sofa easily converts to a comfortable double bed.  In the bedroom we have retained the original stone wall and fitted it out with a large comfortable double bed.  The bathroom has a bath and shower.  It also houses the washing machine.
Further Details Indoors:
Double patio doors lead out from the living room and bedroom to the large decked terrace.  Relax in the sun, curl up with a good book or catch up with friends on your lap top, the apartment is equipped with wifi internet connection.  Eating outdoors is a must, we have provided a barbecue for those that want to burn some food!  There is a good sized table, 4 chairs and a parasol for days when it is too sunny.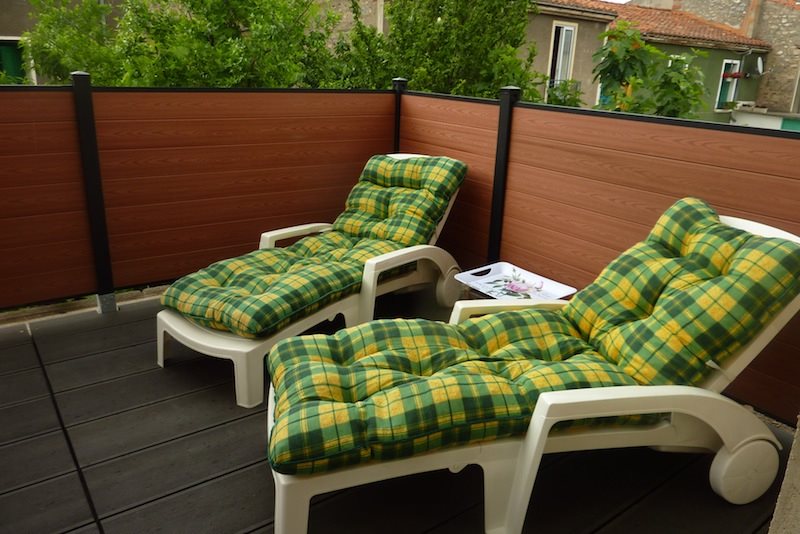 Local Area
Apartment Le Canigou is perfectly positioned between the Mediterranean to the east where the beautiful sandy beaches provide long days by the sea, and the Pyrenees mountains to the west, which offer a wealth of walking and cycling opportunities, not to mention skiing in the winter!!
The surrounding countryside is a delight, lush green scenery, with Mount Canigou dominating the skyline and the Pyrenees visible in the distance. You can be swimming in the sea in the morning and hiking in the mountains in the afternoon. 
The Pyrenees Orientales benefits from being in the sunniest region of France and enjoys warm sunny weather from March all the way through to October. November and December are cooler but still with sunshine. January, February and March are great skiing months and we are not too far from the ski resorts.
Ria Sirach is a charming Catalan village perched on a steep hillside and situated in the foothills of the Pyrenees. It is easily recognisable by the Catalan flag which flies at the site of the ancient abbey atop the village (changes to a huge star at Christmas). It is an ideal centre for holidaymakers all year round as the village enjoys a wonderful climate, with an average of 300 days of sunshine each year. It is set in the sheltered Conflent valley in the foothills of Mount Canigou, which rises to a height of 2,785 meters. Rudyard Kipling praised Canigou as "a magician among mountains". The river Têt has cut a ravine at the foot of the village which is situated at an altitude of 400m.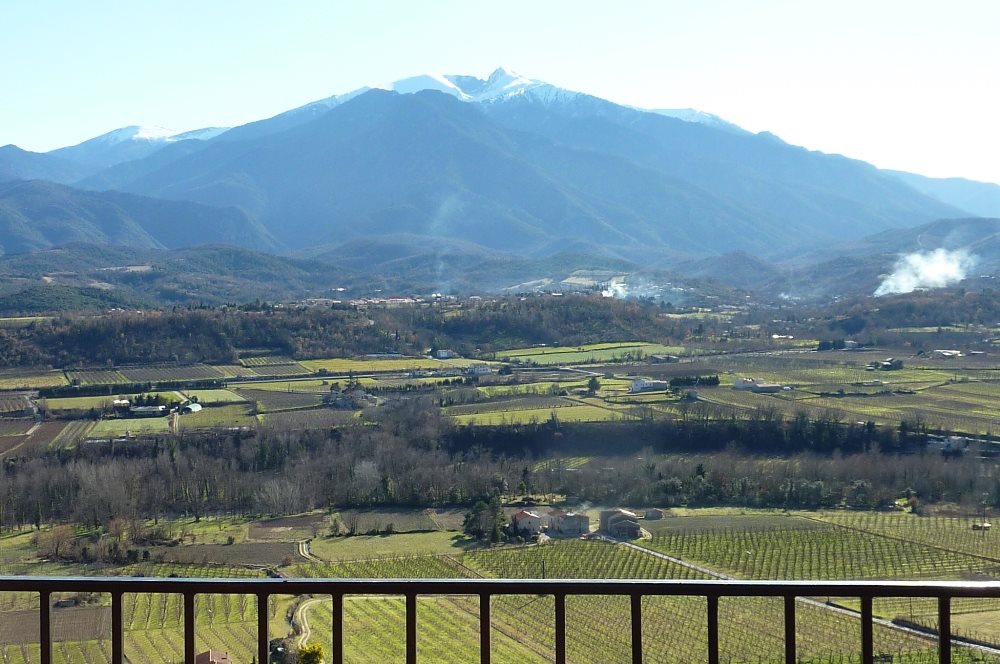 If you want to chill out and forget about the car, you can join the locals in the restaurant/bar or collect your baguettes/croissants from the boulangerie and if you don't want the stress of supermarket shopping, you can stock up at the village épicerie.

Ria Sirach is situated within 5 minutes of the local market town of Prades where you will find everything from supermarkets to a large, busy traditional square with bars and restaurants. Prades hosts a bustling market on Tuesday mornings and a smaller farmers market every Saturday morning.

Prades has a helpful Tourist Office on the town square where you can get information about the many local festivals and activities. It is open all year round.

For music lovers, Prades boasts the internationally famous Pablo Casals music festivals with concerts staged in various venues including the impressive Baroque church at the center of the town (which itself boasts the largest baroque altar in France). 

The walks in the area are many, varied and well marked, stroll around the village or take a hike following some of the most beautiful trails in France.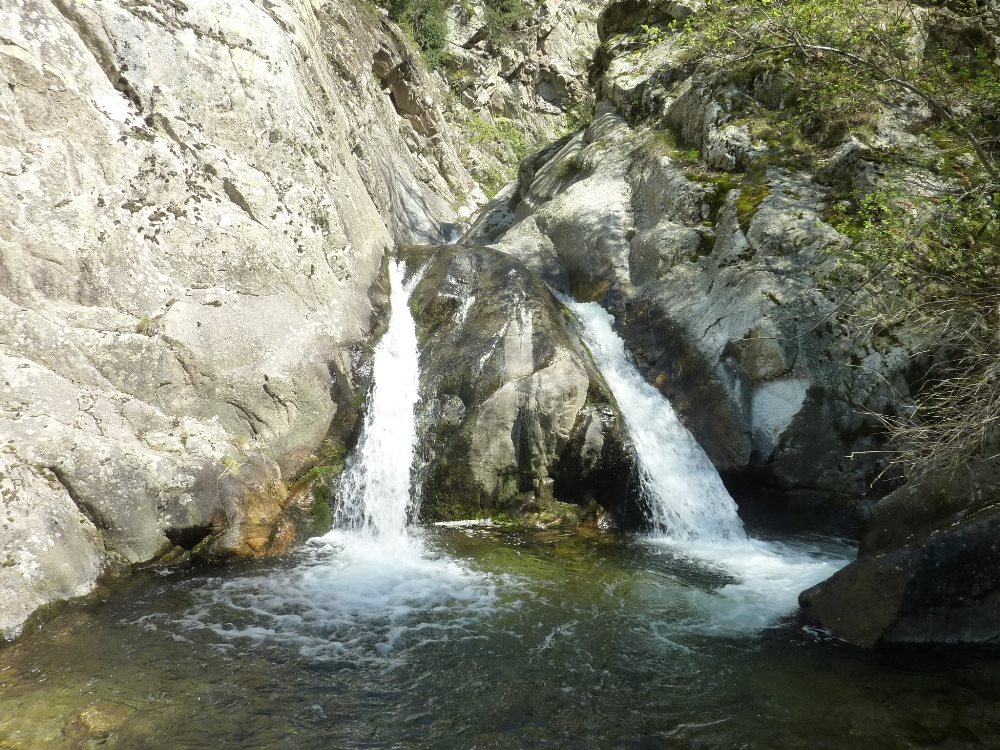 For touring the area Ria Sirach is ideally situated and offers an excellent base. Just a few sites of interest within easy driving distance are listed below:

* Villefranche de Conflent, a fine example of a medieval walled town (5 minutes drive from Vernet).
* Little Yellow Train, catch this train from Villefranche and enjoy the spectacular mountain views right into the Pyrenees towards the Spanish border. (5 minutes drive from Vernet).
* St Thomas les Bains, outstanding natural thermal hot springs in wonderful outdoor mountain setting. (25 minutes drive from Vernet).
*Animal Park, Casteil, lovely day out for the children, lots of animals to see and feed, in a beautiful mountain park, the walk around the park is 2-3 km. (5 minutes drive from Vernet).
* Grottes de Canalettes, magnificent renowned caves with an incredible light and sound show. (5 minutes drive from Vernet).
* St Martin du Canigou, 9th century abbey perched impressively high on the hillside with fantastic scenery and walks. (10 minutes drive from Vernet).
* St Michel de Cuxa, 6th century abbey that hosts concerts during the Pablo Casals festival but is also open for viewing most of the year. (15 minutes drive from Vernet). Both this abbey and St Martin are considered to be the finest architecture of their period in France.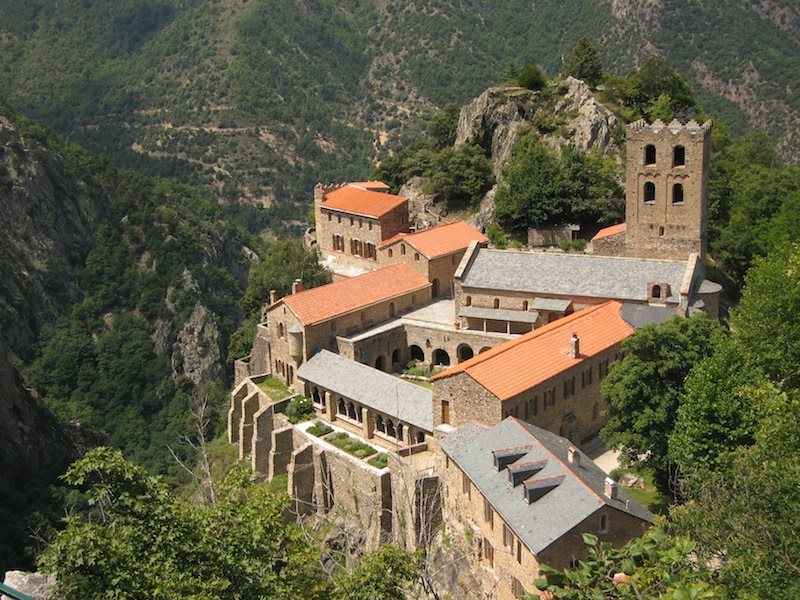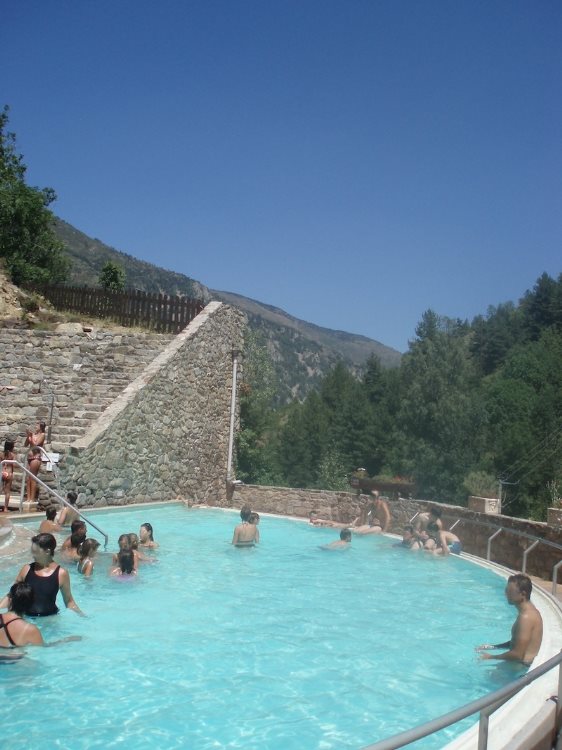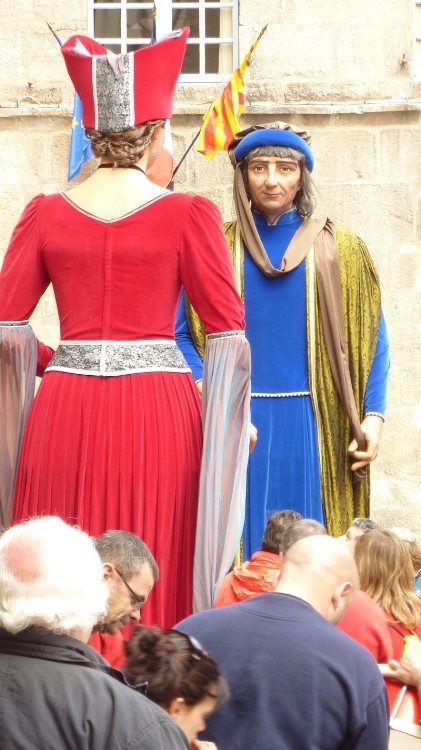 Getting Here
Fly
The property has several airports within 2.5 hours drive. They are listed below in order of closeness.
Perpignan
Gerona  
Beziers  
Carcassonne
Montpellier  
Nimes
Barcelona
Toulouse  
Car hire firms operate at all of these airports
Shuttle buses run from Perpignan airport to Perpignan bus and train station.
Most local buses and trains in the area are only 1 euro per journey!
Train
By Rail - Eurostar trains from the new St Pancras station connect with TGV trains to Perpignan. You can hire a car at Perpignan train station.  Trains run during the day from Perpignan to Ria from where you can walk to the house or if you have heavy luggage you may want to arrange a taxi to take you to the house. (1km)
Drive from UK or the EU
Driving - Calais to Perpignan or longer crossings are available bringing you closer. The drive can be completed in 1 or 2 days depending on whether you would like to take a more leisurely drive and take in some of the highlights of France along the way, such as Paris and all its attractions, or maybe even the stunning Millau Bridge, the 12th highest bridge in the world. The network of motorways is excellent and there are many reasonably priced hotels along the way.
We will be happy to help you with your travel arrangements, just ask.
Photos
We are constantly taking new photos, if there is something specific that you would like to see please ask, we may just have it!
Rates
This price includes all utilities, bed linen and towels and we do not charge extra for the end of stay clean.
Bookings are confirmed by payment of a 25% non-refundable deposit. The balance becomes due four weeks before your arrival along with the £100 security deposit. The security deposit is returned in full providing the property is left in a good, clean condition.
Payments can be made by transfer to our bank, we also accept PayPal which allows secure payment online using your debit or credit card. Other payment methods can be accepted.
For information about short stays, please contact us. Midweek arrivals are possible and reductions are available for long term stays of more than two weeks. Why not take advantage of the budget airlines inexpensive out of season and midweek flights.
Nightly rate is 15% of the weekly rate. Minimum stay 3 nights.
Rental rates are for the entire property.
| Description | From | To | Weekly |
| --- | --- | --- | --- |
| Lowest price | 01 Feb 13 | 28 Jun 13 | £199 |
| Highest price | 29 Jun 13 | 31 Aug 13 | £350 |
Availability
Guestbook
Enquiries